A few years ago, I started baking cupcakes for the first time. In my mind, I always associated cupcakes with children's parties. But then I came across several cupcake recipes that went beyond the standard vanilla and chocolate, and into more sophisticated flavors. One of my favorites is these lemon chamomile tea cupcakes. They are perfect for a brunch, bridal shower, or baby shower, as well as at tea time.
Bridal Shower Brainstorming
Originally, I began looking for cupcakes that would go with tea when I was asked to make cupcakes for a tea party-themed bridal shower. I found some recipes that involved putting loose tea leaves into the batter. Now, I love tea, so I would not mind this. But when thinking of the variety of tastes at a bridal shower with eighty women, I did not know if everyone would like the idea of biting into something with leaves in it.
Then I came across a recipe for lemon chamomile cupcakes that involved steeping the tea bags in milk and then adding this flavored milk into the batter, rather than the leaves themselves. Plus, with the addition of lemon, these are truly reminiscent of a soothing cup of tea with lemon.
The lemon chamomile tea cupcakes were a hit with the ladies. Since they have a subtle sweetness to them, they appealed even to those who do not normally like cupcakes.
For this shower, I decorated all the cupcakes with buttercream roses made with a Wilton 1M tip. I kept the buttercream for the lemon chamomile cupcakes in its natural color. In the photo above, the cupcakes with the green roses were chocolate fudge cupcakes. The pink-frosted ones were fresh strawberry cupcakes. I arranged an assortment of them into a cupcake bouquet centerpiece and displayed each flavor in separate tiered racks as well.
The bridal shower was held in an Italian restaurant, with multiple courses, so I honestly did not think the guests would have room left for dessert. I was wrong! The photo below shows what was left ten minutes after the Sweets Table was opened for business.
The only cupcakes left were the ones that were part of the centerpiece bouquet. I don't think people thought they could take that one apart. But, needless to say, the cupcakes were a hit!
[My blog posts contain affiliate links. These don't cost you anything, but they allow me to continue running this site and providing free content for my readers. Full disclosure here.]
It's a Boy!
Fast forward a couple of years, and that bride-to-be is now a new Mom! To celebrate the little guy's one month birthday, I made the lemon chamomile cupcakes. However, I changed up the recipe this time. Instead of using lemon juice, I used lemon essential oil. (I also used this same lemon essential oil in my Blueberry Lemon Crumble recipe.)
The Young Living Lemon Vitality Oil that I used is the same as the larger bottle of lemon essential oil they sell. Both are edible, so you can use either the Vitality Oil or the other larger bottle. A 5 mL bottle of Vitality oil has about 85-100 drops in it, so this recipe uses about 1/3 of that bottle. If you are interested in purchasing Young Living Lemon Vitality Oil and would like to become a member so that you can get the wholesale discounted price, click here. (Disclosure: This is my Young Living Distributor link.)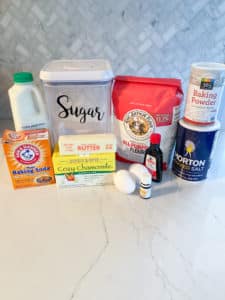 What I think is the most interesting step in making these lemon chamomile cupcakes is steeping the tea bags in warm milk. Adding milk to cake batter enriches it. With the added chamomile flavor, it takes them to another level of sophistication.
The box said to steep the teabags for 4 minutes. But I let these steep in the warm milk for double that time so that the flavor would be more pronounced when mixed with the other ingredients.
When it came time to put the batter into the pan, I used Reynolds foil liners. These are far and away my favorite liners. I have never had luck with the paper liners, as the butter and oils in any cake batter end up seeping through. This makes the liner dark and dingy looking.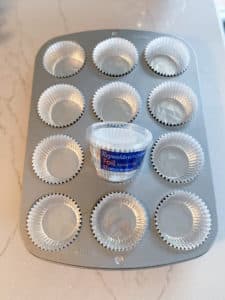 You can usually find these liners in grocery stores in the baking aisle. But I have been known to stalk Target when they begin putting out the holiday baking supplies, as they carry red foil and green foil liners then, in the holiday section. The green foil ones are particularly handy when you decorate with a floral icing. The green will look like the stem of the plant.
To portion out the batter, I use my Wilton Cupcake Scoops. Since I was using a standard size muffin pan, I used the medium size blue scoop. To get 12 cupcakes out of this batch, I did slightly less than a full scoop of batter in each liner.
After baking at 350 degrees for 17 minutes, I checked for doneness using one of my most favorite gadgets: the Nordic Ware Bundt Cake Thermometer. Now the name is actually misleading, because it not really a thermometer, as it does not show the temperature. Instead, you insert it into the cupcake for a few seconds, then take it out. If the tip has turned bright red, the batter is fully cooked.
(I find this so much more accurate than using a toothpick, especially if your baked goods have any chocolate chips or other ingredients that are melted when hot. Because then, the toothpick could have melted chocolate on it when the batter is actually done cooking.)
Buttercream Roses
After letting them cool to room temperature, it was time to decorate them. You can certainly use ready-made frosting that comes in the plastic tubs. Just spread it on with a spatula or butter knife, and you are good to go!
But since these were for a one-month birthday celebration, I wanted to make them more special. I used the Wilton basic buttercream recipe and a toothpick swirl of Wilton Sky Blue gel icing color.
I then used a Wilton 1M tip to make roses. These are so much easier than they look! Snip off about an inch from the tip of a decorating bag and insert the 1M decorating tip. Then fill the bag with the icing. If you put the bag inside a tall drinking glass, it will help to keep the bag open as you fill it. I like these particular bags because they have a textured surface, which I find easier to work with.
Once the bag is full, take it out of the drinking glass and give it a gentle shake to get the icing to settle down into the bag. Use your dominant hand to twist the bag shut. Continue to gently squeeze the bag to get the icing all the way down.
Use your non-dominant hand to hold the tip just above the center of the cupcake. Squeeze the top of the bag with your dominant hand, and use your other hand to guide the icing around in a spiral, starting in the center and working your way out. When you have covered the cupcake, release the pressure, and gently pull the bag away. Try to tuck the end of the spiral under the edge of the icing.
Since this icing is half butter and half shortening, they can be kept at room temperature, or in the refrigerator. Put them in an airtight container or cupcake carrier to keep them fresh for up to 3 days.
Of Course, I Had to be Extra!
I used my Cricut Explore Air 2 to make a cupcake topper out of glitter cardstock for the occasion. Because I couldn't let an occasion that called for glitter go without being extra!
Lemon Chamomile Tea Cupcakes
Cupcakes infused with chamomile tea and lemon essential oil
Ingredients
½

cup

milk

4

chamomile tea bags

¾

cup

granulated sugar

½

cup

unsalted butter

(1 stick), softened to room temperature

2

large

eggs

at room temperature

½

tsp

vanilla extract

(preferably pure, not imitation)

30

drops

lemon Vitality oil

or 4 tbsp fresh lemon juice

1 ½

cups

all-purpose flour

1

tsp

baking powder

½

tsp

baking soda

¼

tsp

salt
Buttercream Icing
½

cup

solid shortening

½

cup

unsalted butter

(1 stick) softened to room temperature

4

cups

powdered sugar

(confectioner's sugar)

2

tbsp

milk

(or heavy cream)

½

tsp

vanilla extract

(preferably pure, not imitation)

½

tsp

almond extract

1

toothpick swirl

gel icing color

optional
Instructions
In a small saucepan, heat milk on medium heat until it simmers. Pour into a large mug and add the chamomile tea bags. Let steep for 4-8 minutes. Discard tea bags. Allow the milk to cool to room temperature.

While the milk is cooling, preheat the oven to 350°F. Line a 12-count standard sized muffin pan with cupcake liners.

Using an electric mixer, beat butter and sugar together in a large bowl on medium high for 30-45 seconds, until creamed together. Use a rubber spatula to scrape down the sides of the bowl to make sure it is well mixed.

Add eggs, vanilla extract, and lemon essential oil or lemon juice. Mix on medium-high for about 30 seconds, until the ingredients are combined.

In a separate medium bowl, whisk together the flour, baking powder, baking soda, and salt. Add the dry ingredients into the wet ingredients. Mix on low speed until incorporated, about 15 seconds. Do not overmix.

Add the cooled milk mixture to the batter. Mix on low speed just until incorporated.

Spoon the batter into the 12 cupcake liners. Clean any drips of batter from the pan to prevent burning.

Bake for 17 minutes. The cupcakes are done when a baking thermometer inserted in the center turns bright red, or a toothpick comes out clean. Remove pan from oven and let cool in the pan for 5 minutes. Then move the cupcakes out of the pan and onto a cooling rack.
Buttercream Icing
While the cupcakes are cooling, prepare the icing. In a large bowl, use an electric mixer to beat together the shortening and butter on medium speed for about 1 minute, until light and fluffy.

Scrape down the sides of the bowl with a rubber spatula. Beat in the vanilla and almond extracts.

Add powdered sugar 1 CUP AT A TIME. Cover the mixer with a dishtowel, and begin mixing on the lowest speed until incorporated. Then increase speed until mixed in. Continue until all 4 cups have been mixed in. The icing will be stiff and dry.

Optional: Dip a toothpick into the gel icing coloring. Then dip it into the icing mixture. Beat on medium speed until the color is evenly distributed.

Add the milk and beat at medium speed until light and fluffy. If the icing is too soft, add 1 tbsp of powdered sugar at a time. If the icing is too stiff, add a little more milk at a time until it reaches the desired conistency.
Notes
Iced cupcakes should be stored in an airtight container for up to 3 days.
This buttercream can be stored at room temperature or in the refrigerator.
Any extra buttercream can be wrapped in plastic wrap and heavy-duty aluminum foil and stored in the freezer. When ready to use, thaw it and re-beat it with an electric mixer.
What other flavors of tea do you think would work well in a cupcake? Tell me in the comment section below.