Do you have a childhood memory of blowing out the candles on a homemade birthday cake that tasted so good you looked forward to it for weeks? Perhaps your mother whipped one up from scratch using a family recipe handed down for generations. Or, more likely than not, it was made from a boxed cake mix. If you have tried to recreate the same experience recently, you might have been disappointed in the results. I am going to explain how to doctor up a cake mix with my secret tips. These are simple tricks that anyone can do!
Perhaps you have been disappointed when you have used a cake mix recently. Maybe the cake ended up kind of short, barely rising above the rim of the pan. Even with two layers stacked together, the cake just looked kind of "flat." You might have thought that maybe something is wrong with your oven. Or maybe that the mix had gone stale and somehow did not rise the way it should.
It turns out, you probably did not do anything wrong. The problem is the size of the cake mix.
[My blog posts contain affiliate links. These don't cost you anything, but they allow me to continue running this site and providing free content for my readers. Full disclosure here.]
Incredible Shrinking Cake Mixes
Going back around eight or nine years ago, cake mix manufacturers shrunk the amount of mix in a box. This was to avoid raising the price of the mix. Mixes used to have 18.25 ounces in them, but now they only have 15.25 ounces in them. For all you "numbers people" out there, this means that the mixes are now almost 17% smaller than they used to be! It's no wonder today's cakes look like sad miniatures of the cakes of our youth.
One way to make your cakes taller would be to use a smaller pan. Most people use round cake pans when they use a cake mix. A 9 inch round pan will yield a relatively short layer. But the same batter in an 8 inch round pan will produce a noticeably taller cake.
If you are making cupcakes using a cake mix, you really have to stretch out the batter to make 24 cupcakes. If you do that, the cupcakes will look fairly flat. Do you usually need to make more than 12 cupcakes? (If you are doctoring up a cake mix, you will definitely have enough batter for more than 20 cupcakes.) This cupcake pan makes 24 regular-sized cupcakes in one batch.
For more recommendations on baking supplies for the home cook, check out my post on the 11 Best Gifts for Bakers.
Perhaps you found a recipe from a cookbook (remember those, before the days of Pinterest?) published prior to 2010, that uses a cake mix as an ingredient. If you try to make the recipe using today's cake mixes, they end up being too soggy. This is because the ratio of dry to wet ingredients is now wrong. They will not rise much at all because the proportion of ingredients that help the batter rise will be off. After investing your time and money to bake, you could be left scrambling at the last minute to run to the bakery to buy something more presentable. That's when the sticker shock really sets in!
Throwing in a few extra spoonfuls of flour might help to make the batter take up more room in the pan. But that will also dilute any flavor overall. Opening up another box of cake mix to make a second batch, just to be able to fill up 24 cupcake liners would be wasteful. (Plus, you would end up with WAY too much batter for 24 cupcakes.)
I had experienced some cake fails myself shortly after the cake mixes had gotten downsized. So many of my tried and true recipes that used cake mixes just weren't the same anymore. Then I came across a post in the Sun Sentinel that described how to upsize a cake mix by adding in three more ounces of dry ingredients. I figured it was worth a shot.
After whisking together a jar of flour, sugar, baking powder, and baking soda, I skeptically added some to a cake mix. I was pleasantly surprised that not only did the finished cake look to be the same size as the cakes of yesteryear, but they actually tasted better. This is because the extender is made up of fresh, natural ingredients. It is a better taste than the artificial flavors found in most cake mixes.
When people try my cakes, they often think that I have made it completely from scratch, since it does not taste like a typical cake mix. Most have said it tastes better than bakery cakes. Let's face it, many bakery cakes have been sitting in the case for days. They are covered in icing made up of shortening with no butter, so overall they lack any flavor other than sugar.
Popular Cake Mix Brands
Many years ago, I took cake decorating courses at Michael's craft store. The instructor strongly recommended using Duncan Hines cakes mixes. They bake up taller than other brands found at the grocery store. Since then, I have almost always used a Duncan Hines mix. Supermarkets tend to run a sale on them every couple of months, so I stock up then. I especially like their classic white and classic yellow flavors, as you can customize those in so many ways. The devil's food and dark chocolate fudge flavors are also excellent choices. The red velvet flavor is also delicious, with a subtle chocolate taste. I would not recommend using the butter golden flavor mix for these doctored recipes. I have found that the butter required in that recipe results in a crumbly exterior, making it harder to frost.
Cake Mix Extender
Whenever I use a recipe that calls for an 18-ounce (or more) cake mix, I always add 6 tablespoons of the cake mix extender to today's 15.25-ounce cake mixes. This adds about 3 ounces of dry ingredients to the batter. You don't need to add any extra oil, water, or eggs to that recipe.
I keep my cake mix extender in a mason jar. One batch of the extender is enough for six cake mixes. So once you make up a batch, it is so quick and easy to add to a mix.
The Proof is in the Pudding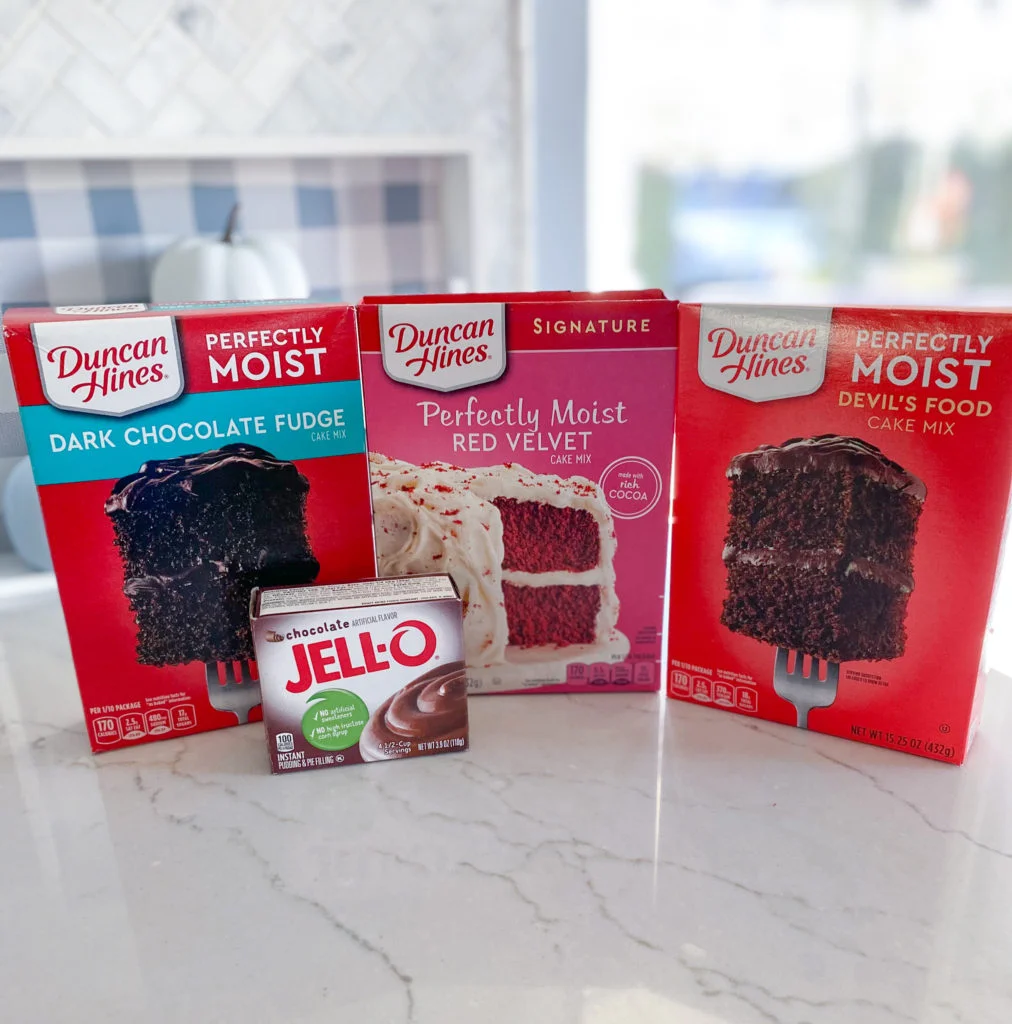 If you are not using a recipe, and just want to improve the taste of a cake mix, there are a few different additions you can make. One is to add a 3.4-ounce box of instant pudding mix. This is the powdered mix usually sold in the baking, not the ready-made pudding. The pudding will create a cake that is moister and denser.
Add vanilla pudding mix if you are using a white or yellow cake mix. If you are baking a chocolate or red velvet cake mix, then use a chocolate pudding mix. (Red velvet cake is actually a chocolate cake with lots of red food coloring. So adding chocolate pudding to the mix will not affect the color of the cake.) If you want to make your cake even more unique, you can add a pistachio pudding mix to a yellow cake mix. (You can then add pistachio extract for a stronger burst of flavor.)
Some brands of cake mixes already include pudding in the mix. So if the boxed mix you are using says it already has pudding in it, do not add any more pudding. Most Pillsbury and Betty Crocker cake mixes contain pudding.
Sour Cream Isn't Just for Tacos and Dips
Another "secret weapon" in my baking arsenal is sour cream. By adding 1 cup of sour cream to a cake mix, you will cut back a little bit on the sweetness of the cake while improving the texture. The acidity in the sour cream will also help the baking soda in the mix rise. This creates a slightly taller cake.
I have used both regular and low-fat sour cream in my cakes. Both produce similar results, so use whichever one you have available.
Going the Extra Mile with Extracts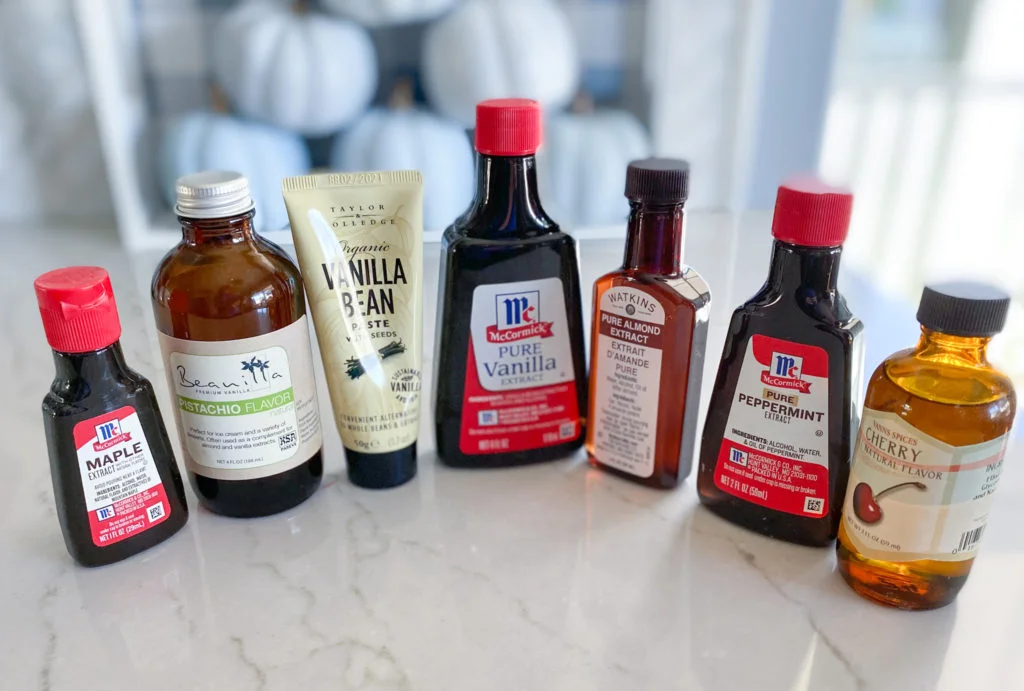 If you want to amp up the flavor in your cakes, you can add extracts. Most people have used vanilla extract when baking from scratch. You can also add 1 teaspoon to a cake mix. I always use pure vanilla extract, not imitation extract. You could alternately use 1 teaspoon of vanilla bean paste, which will give your batter a slightly speckled appearance so your guests will really know it is homemade!
My second go-to extract is almond extract. When I use it, I either do 1/2 teaspoon of vanilla extract and 1/2 teaspoon of almond extract, or 1 teaspoon of vanilla extract with 1/2 teaspoon of almond extract. This is a great combination to use with sour cream in a cake mix. For the almond extract, I use either imitation or pure almond extracts.
Peppermint extract is delicious in chocolate cakes. You only need to add 1/2 teaspoon of peppermint extract to a cake mix. If you add more than that, it might be too overpowering to the chocolate flavor. You don't want your cake to taste like toothpaste!
I had bought maple extract to use in a cookie recipe. But you could add 1 teaspoon of it to a cake mix along with 1 to 2 teaspoons of cinnamon to turn a yellow cake mix into an autumn treat.
The spice section of your supermarket might have other fruit extracts and flavorings, including cherry, lemon, and orange. By adding 1/4 teaspoon to 1/2 teaspoon of these to a cake mix, you can really customize the flavor of your cake.
While you might be tempted to use lemon juice or orange juice instead of extracts, you would need to use a significant amount to actually taste the flavor. This would end up making your batter too liquidy, which is why using extracts is a better idea.
Easy Recipe for Beginners
If you want to try to doctor up a cake mix for the first time, here is an easy, one-bowl recipe that I have baked many times. By adding chocolate pudding mix, sour cream, vanilla, and extra cocoa powder, you can turn an ordinary cake mix into an extra-special treat!
These red velvet sour cream cupcakes are perfect for the 4th of July, Labor Day, Election Day, or Valentine's Day. They are always a hit at Election Day bake sales. Check out my printable Election Day cupcake toppers that are a perfect match with this recipe.
Red Velvet Sour Cream Cupcakes
Start with a red velvet cake mix and enhance it with pudding and sour cream for the tastiest cupcakes.
Equipment
Electric Mixer

Cupcake Pan

Foil baking liners
Ingredients
1

box

red velvet cake mix

1

cup

all-purpose flour

1

cup

granulated sugar

3.4

ounce

instant chocolate pudding mix

1

tbsp

cocoa powder

(not hot cocoa mix)

1

tsp

vanilla extract

¾

tsp

salt

½

cup

vegetable oil

1

cup

sour cream

(regular or light)

1⅓

cups

water

4

eggs
Instructions
Preheat the oven to 325°F. Put foil cupcakes liners into the wells of a standard-sized cupcake pan.

Put all of the ingredients into a mixing bowl or the bowl of a stand mixer. Use a large spoon or rubber spatula to slightly combine the ingredients. (This will prevent the batter from flying out of the bowl when you turn the mixer on.) Then use an electric mixer or stand mixer and beat at medium speed for 2 minutes.

1 box red velvet cake mix,

1 cup all-purpose flour,

1 cup granulated sugar,

3.4 ounce instant chocolate pudding mix,

1 tbsp cocoa powder,

1 tsp vanilla extract,

¾ tsp salt,

½ cup vegetable oil,

1 cup sour cream,

1⅓ cups water,

4 eggs

Pour batter into the baking liners. Fill each liner ⅔ to ¾ full. Wipe any drips off of the pan to prevent burning.

Bake at 325°F for 17 to 20 minutes. Insert a cake thermometer or toothpick in the center to check for doneness. If the batter is still wet, continue baking in 1-minute increments until done.

Let cool in the pan for 10 minutes. Then transfer to a cooling rack. Let cool completely before frosting.
If you have tried other flavor combinations of cake mix, pudding, and extracts, let me know in the comment section below.
Learning how to doctor up a cake mix is pretty easy and produces wonderful results. Your guests will not be able to tell that you started with a mix. It will be our little secret!